I sincerely ask you to introduce yourselves to the offer of fruit trees that are produced by me, which have a wide range of species and varieties. Tomasz Opiela's tree nursery exists for several years now. The nurseries main place is located in Zasów close to Dębica in the Subcarpathian Voivodeship. Initially, it was a small farm, however the experience that we gained over the years enabled us to quickly expand and improve the stock in the nursery. Produced seedlings are of the highest quality. The annual production
is 500 000 fruit trees of which 60% are apple trees.
Currently, the farm occupies an area of 30 hectares. I also own a nursery of rootstocks. In the offer you may find a wide range of fruit trees (apple-trees, pear-trees, plum-trees, cherry-trees, apricot-trees, peach-trees) on different rootstocks, and also seedlings of trees for organic orchards. The commodity which I produce, is sold on the domestic market as well as it is being exported abroad, therefore I am able to cooperate with customers from all around Europe. I also accept orders with the possibility of budding. I have all the necessary documents that prove my fulfillment of requirements for the fruit trees materials. I also have cooling facilities.
Our Offer !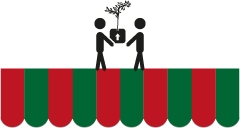 THE HIGHEST QUALITY
WARRANTY